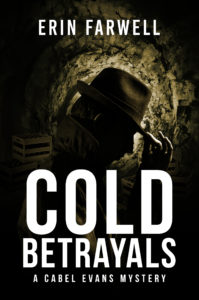 You are only betrayed by those you trust.
A shootout in front of a Chicago speakeasy leaves a woman dead and Jim Evans fighting for his life. Cabel rushes to his cousin's side despite knowing he will come face-to-face with the people who hate him most – his family. Weak from his injuries, Jim begs Cabel to learn who killed the woman he loved and to protect the family business from their fathers' schemes.
Cabel soon discovers that the woman isn't who she pretended to be and her death might be related to a plan that could destroy the company. At Jim's urging, Cabel digs deeper and stumbles upon a connection between the girl, Al Capone, and the theft of several crates of imported cognac. Holding Jim's life as collateral, Capone forces Cabel to find the cognac and identify those who betrayed him.
To protect his cousin, Cabel must untangle the knot of family lies and navigate the twisted tunnels beneath the Cullerton Hotel before Capone's deadline. As he searches for the truth, a murderer waits in the shadows. Who will survive the web of cold betrayals?